Posts for tag: laser dentistry
By Berger Family Dental
June 11, 2018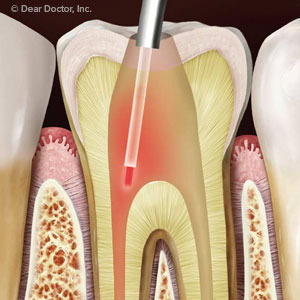 As in other parts of medicine, lasers are beginning to change the way we provide dental care. More and more dentists are using lasers to make earlier diagnoses of dental disease or provide surgical treatment. One area prime for change is the treatment of teeth with deep decay and in danger of being lost.
For decades now, the best way to save teeth in this condition is with root canal treatment. In this common procedure we access the pulp, remove the infected tissue with specialized hand instruments, and then fill and seal the pulp chamber and root canals with a special filling.
We can now potentially improve the efficiency and increase the success rate of this treatment with laser technology. With their focused light, lasers emit a concentrated burst of energy that's extremely precise. In many instances laser energy can remove the target diseased tissue without damaging nearby healthy tissue.
In this form of root canal treatment, we use lasers to remove tissue and organic debris within the pulp and then shape the root canal walls to better receive the filling. We can also utilize the heat from laser energy to soften and mold the filling, so that it better conforms within the walls of the root canals.
Using lasers in root canal treatments may require less local anesthesia than the traditional approach and also eliminates disturbing or discomforting sounds and vibrations. Dentists who've used the new technology also report less bleeding during the procedure and less pain and occurrences of infection afterwards.
But there are a couple of disadvantages for using lasers in root canal treatment. For one, light travels in a straight line — and many root canal networks are anything but straight. More complex root canal networks may still require the traditional approach. Laser energy could also increase the tooth's inner temperature, which could potentially damage tissues even on the tooth's outer surfaces.
Used in the right circumstances, though, lasers can be an effective means to treat diseased teeth. Â As laser technology continues to advance and becomes a mainstay in dental care, you may soon find it part of your next dental procedure.
If you would like more information on root canal treatments, please contact us or schedule an appointment for a consultation.
By Berger Family Dental
March 17, 2018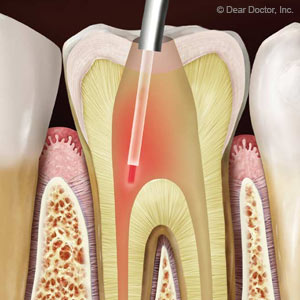 Root canal treatments are an essential part of dental care — countless teeth with deep decay would be lost each year without it. Now, this traditional dental care procedure is advancing to a new level of precision through lasers.
Root canal treatments have a simple goal: access a tooth's infected pulp and root canals, clean out the infected tissue and fill the empty pulp chamber and canals with a special filling. Once filled, the access is sealed and a porcelain crown later placed for additional protection against re-infection.
In the traditional procedure, we perform these steps manually with a dental drill and hand instruments. We may also need to remove a good portion of tooth structure, both healthy and infected tissue. A laser, on the other hand, is a highly focused beam of light with the ability to interact with healthy and infected tissues differently: destroying infected tissue while having no effect on nearby healthy tissue. The end result: we may be able to remove less healthy tissue with lasers than with the conventional procedure.
Lasers are also helpful with softening and precisely molding the filling material within each canal's particular shape. And, early reports seem to indicate a higher degree of comfort for patients (less drill noise and need for anesthesia), less bleeding and faster recovery times than the conventional approach.
But as a tool for root canal treatments, lasers do have a couple of disadvantages. While light travels in a straight line, root canals are rarely straight — conventional instruments with curved designs usually accommodate odd canal shapes better than a laser. Lasers can also raise temperatures within a tooth that can damage healthy tissue, both within the pulp and outward into the dentin.
Still, lasers for root canal treatments appear promising with some dentists using a combination of lasers and manual techniques to garner benefits from both approaches. While you won't see lasers replacing the traditional root canal treatment anytime soon, the future looks bright for more efficient ways to treat deep tooth decay.
If you would like more information on your options for root canal therapy, please contact us or schedule an appointment for a consultation.
By Berger Family Dental
July 19, 2012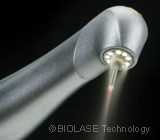 For many people, when they hear the term "laser," they immediately envision a futuristic science fiction movie. However, did you know that lasers have been used in the medical industry for years? Furthermore, this revolutionary technology is now beginning to do the same within the field of dentistry.
Lasers get their name from "Light Amplification by Stimulated Emission of Radiation" and are literally beams of light that have a single wavelength. Unlike traditional white light or daylight that is a continuum of light with many wavelengths corresponding to the visible spectrum or rainbow, a laser light beam is just a single color.
Dental laser usage typically falls into three categories: disease diagnosis; soft tissue procedures of the gums, lips, and tongue; and hard tissue procedures of the bone or tooth enamel and dentin. For example, common uses include diagnosing cavities, treating disease, and removing both diseased gum tissues and tooth structure, as in decay. They were first used in dentistry for soft tissue surgery such as gum line reshaping procedures and tissue testing (biopsies). In 1997, dentists started using them for removing decay and preparing the tooth enamel and dentin in preparation for fillings. More recently, dentists are using lasers to help detect and diagnose dental disease, as they are especially helpful in identifying dysplastic ("dys" – altered; "plasia" – growth) or precancerous tissue as well as cancerous tissues. Thus they have been used for removing both malignant (cancerous) and benign (non-cancerous) lesions in some cases.
As you now see, laser dentistry is an important tool we use at our office to provide our patients with optimal dental care and treatments. And if you want to learn more about laser dentistry, read the article "Lasers Shine A Light On Dentistry." Or if you want to schedule an appointment to see if laser dentistry is right for you, contact us today.