Posts for: April, 2018
By Berger Family Dental
April 11, 2018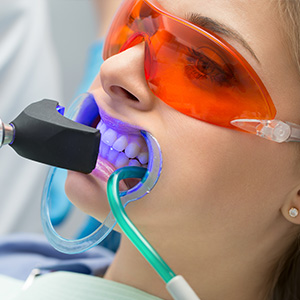 If you're ready to put the "pizzazz" back into your smile, your dentist may be able to help. It's possible your dull, dingy smile could be transformed with teeth whitening.
Teeth whitening or bleaching is a technique that applies a solution with a bleaching agent (usually up to 35% hydrogen peroxide in an office setting) to the teeth to whiten them. Although there are Do-It-Yourself home whitening kits you can use, there are a few good reasons why you should first consider a whitening procedure in a dental office setting.
To begin with, you should first have your teeth examined by a dentist to determine why they're discolored. Certain foods and beverages we consume or tobacco habits are the usual culprits causing stains on the enamel, the outermost tooth layer. These are the kinds of stains targeted by most whitening solutions.
But the interior of a tooth can also become discolored for reasons like trauma, past dental work or tetracycline use at an early age. If your staining is internal (intrinsic) rather than external (extrinsic) reducing that discoloration will require an invasive procedure only a dentist can perform—a home kit won't be able to do the job.
Another reason for having your teeth whitened by your dentist (even extrinsic staining) involves your time and the degree of brightness you'd like. Because dentists use stronger bleaching solutions (home kits usually use a weaker solution of 10% carbamide peroxide) it takes fewer sessions than home kits to achieve results—and they may last longer. In addition, dentists have more control over the level of brightness to match your expectations of a more subdued, natural look or a dazzling "Hollywood" smile.
A dentist can also help you navigate special circumstances like matching and managing natural teeth whiteness with dental restorations (which don't bleach) or special whitening situations like a single discolored tooth.
Even if you eventually decide to go the home kit route, consulting with a dentist first can still prove helpful. You'll get expert advice on products, tips on how to apply them and how to prolong the whitening effect. Whichever way you go, home kit or dentist, you can gain a brighter, more confident smile with teeth whitening.
If you would like more information on teeth whitening, please contact us or schedule an appointment for a consultation. You can also learn more about this topic by reading the Dear Doctor magazine article "Important Teeth Whitening Questions…Answered!"
By Berger Family Dental
April 03, 2018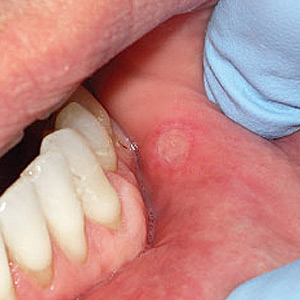 If you occasionally experience small sores in the softer tissues of your mouth, you may have aphthous ulcers or better known as canker sores. While rarely a health concern, they can be painful and annoying particularly when you're eating and drinking.
These breaks in the skin or mucosa (the lining membranes of the mouth) usually occur in the thinner tissues found in the cheeks, lips, under the tongue or in the back of the throat. They tend to be most painful (especially while eating acidic foods like citrus or tomato sauce) between the first few hours of appearing and for a couple of days afterward, and will often occur during periods of anxiety, stress or after a minor injury. The sores will normally heal and fade within a couple of weeks.
Although occasional outbreaks of canker sores are quite common with most people, 20-25% of people (more often women) have a recurring form of painful outbreak known as recurrent aphthous stomatitis (RAS). Another variation called herpetiform aphthae, similar in appearance to herpes simplex virus sores, is characterized by smaller clusters of ulcers. While the specific causes for canker sores are still unclear, there's some correlation between them and abnormalities with a person's immune system, as well as with other systemic conditions like gastrointestinal disorders or vitamin deficiencies.
The basic treatment for canker sores is to first soothe the pain and promote quicker healing. Many over-the-counter medications are available for mild cases that numb the area temporarily and provide a protective covering while the sore heals. For more severe cases, there are also prescription medications (like steroids) that can be applied topically or through injection.
While canker sores are not contagious and usually benign, there are some situations that call for a dental examination: sores that haven't healed within 2 weeks; increasing occurrences and severity of the sores; and never being completely free of a sore in the mouth. These may indicate some other condition, or be an occurrence of cancer or a pre-cancerous condition.
If you have any concerns, be sure to schedule a visit. We'll be glad to evaluate any occurrence of the sores and recommend the best course of treatment to ease the pain and annoyance.
If you would like more information on canker sores or other types of mouth ulcers, please contact us or schedule an appointment for a consultation. You can also learn more about this topic by reading the Dear Doctor magazine article "Mouth Sores."