Posts for: March, 2014
By Berger Family Dental
March 18, 2014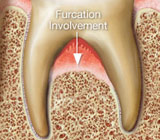 Although they may appear inert, teeth are anything but — they grow and change like other bodily tissues until complete maturation. Teeth roots are especially adaptable; teeth with multiple roots develop much like forks in a road as each root takes a different path toward the jawbone.
This fork where they separate is called a furcation. It's normal for lower molars and premolars to have two furcations, while upper molars traditionally have three. Furcations pose difficulties for teeth cleaning and maintenance. If bone loss has occurred around them, a condition called a furcation invasion has occurred. This loss is most likely due to periodontal (gum) disease, an inflammation arising from bacterial plaque on the teeth that hasn't been removed through proper oral hygiene.
We identify furcation invasions through x-ray imaging and tactile probing. They're classified in three stages of development: Class I describes early onset in which marginal bone loss has occurred, exposing a groove that leads to the beginning of the furcation; Class II is moderate bone loss where a space of two or more millimeters has developed horizontally into the furcation; and, Class III, advanced bone loss whereby the bone loss has extended from one side of the tooth to the other, or "through and through furcation."
Our first step in treatment is to remove any detectable plaque and calculus on the tooth surface, including the roots (known as scaling and root planing). These areas can be difficult to access, especially near furcations, and requires special instruments known as scalers or curettes. We may also employ ultrasonic scalers that use high-frequency vibrations coupled with water to break up and flush out the plaque and calculus.
We then apply antimicrobial or antibiotic medicines to further disinfect the area and inhibit bacterial growth while the affected tissues heal. As the infection and inflammation subsides, we then turn our attention during subsequent visits to address the bone loss around the furcation. This may involve surgical procedures to aid in re-growing gum tissue and bone and to create better access for cleaning and maintaining the area.
Finally, it's important to establish good oral hygiene habits and regular checkups and cleanings to prevent further complications or a reoccurrence of the disease. Maintaining these habits will help you avoid tooth loss and other problems with your oral health.
If you would like more information on furcations, please contact us or schedule an appointment for a consultation. You can also learn more about this topic by reading the Dear Doctor magazine article "What are Furcations?"
By Berger Family Dental
March 03, 2014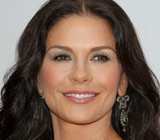 She received an academy award for best supporting actress in Chicago (2002); she regularly stars in big Hollywood films like Oceans Twelve and Side Effects. And she's been named one of People magazine's "most beautiful people" of the year… a total of five times so far. According to big-screen heartthrob Antonio Banderas, "She has one of the most beautiful close-ups in cinematography today."
So would it surprise you to learn that Catherine Zeta-Jones had a little help from cosmetic dentistry along the way? In her childhood, the actress said, "I was teased because I had a really flat-looking nose, and before I got braces, my teeth used to stick out a bit." According to press reports, she has also had various dental treatments to make her teeth look whiter and more even.
Because she's been in the spotlight since a young age, Zeta-Jones had her cosmetic dental treatments performed over a number of years. But if you're unhappy with your smile right now, there's no need to wait: Getting a complete "smile makeover" starts with a consultation at our office. How does it work?
We begin with a thorough dental exam to check for any underlying issues, and some basic questions, including: What do you (and don't you) like about your smile? Are your teeth as even and as white as you'd like them to be? Is your smile too "gummy", or do the teeth seem too large or small in proportion to your facial features? Do gaps, chips or cracked teeth detract from your appearance?
Next, working together with you, we can develop a plan to correct any perceived problems in your smile. We've already mentioned two of the most common ways to enhance a smile that's less than perfect: orthodontics for straightening crooked teeth, and whitening treatments for a more brilliant smile. If your teeth are otherwise healthy, both treatments can be performed at any time — in fact, more and more of today's orthodontic patients are adults.
Other treatments that are often used include cosmetic bonding to repair small to moderate chips or cracks in teeth; crowns (caps) to restore teeth with more extensive structural damage; and veneers to remedy a number of defects — including discoloration, small irregularities in tooth spacing, and even teeth that appear too long or too short. Plus, we have even more procedures designed to remedy specific dental issues.
Will having a better smile get you on the "most beautiful people" list? We can't say for sure. But we think you'll feel better about yourself… and people will notice.
If you would like more information on smile makeovers, please contact us or schedule an appointment for a consultation. You can learn more in the Dear Doctor articles "The Impact of a Smile Makeover" and "Great Expectations — Perceptions in Smile Design."