Posts for: September, 2013
By Berger Family Dental
September 23, 2013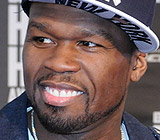 On his way to the top of the urban contemporary charts, the musician, actor and entrepreneur known as 50 Cent (born Curtis James Jackson III) earned his street credibility the hard way; his rise from youthful poverty to present-day stardom is chronicled in many of his rhymes. So when it came time for the rapper to have cosmetic work performed on his teeth, he insisted on doing it in his own way.
"I told [the dentist] to leave [my front teeth] a little bigger than the other ones, because I need to still see me when I look in the mirror," he told his co-host on the New York radio station Power 105.1. "Don't give me no whole 'noter guy — I like me!"
We understand how 50 Cent feels — in fact, we think it's a perfectly reasonable request.
Cosmetic dentistry has come a long way in recent years, as we strive to meet the increasing expectations of our patients. We realize that different people have different perceptions of what makes a smile attractive — and that in dental aesthetics, beauty really is in the eye of the beholder. That's why, before we begin cosmetic work, we want to hear what you like and don't like about your smile as it is now. In addition, we can also perform what is called a "smile analysis."
This procedure doesn't cause any discomfort — but it's a crucial part of cosmetic enhancement. In doing the analysis, we look at the various parts of an individual's smile: the spacing, size and alignment of the teeth; the health and position of the gum line; the relationship of the upper and lower jaws; and the relative shape and size of the face. All of these features combine to make a person's smile unique. By looking at them closely, we can help determine the best way for you to improve your smile.
But how can you tell if the cosmetic changes you're contemplating will end up being just right for you? Fortunately, with today's technology, it's easier than ever. Computer imaging offers a chance to visualize the final outcome before we start working on your teeth; it's even possible to offer previews of different treatment options. If you want to go a bit further, we may be able to show you a full-scale model of your new smile.
In some situations, we can even perform a provisional restoration — that is, a trial version of the new smile, made with less permanent materials. If the "temporary" smile looks, feels, and functions just right, then the permanent one will too. If not, it's still possible to make changes that will make it work even better.
Whether you're thinking about having teeth whitening, cosmetic bonding, porcelain veneers, or dental implants to improve your smile, you probably have a picture in your mind of how the end result should look. Will your teeth be perfectly even and "Hollywood white" — or more "natural," with slight variations in size, spacing and color allowed? Either way, we can help you get the smile you've always wanted.
If you would like more information about smile makeovers and options in cosmetic dentistry, please contact us or schedule an appointment for a consultation. You can learn more by reading the Dear Doctor magazine article "Cosmetic Dentistry."
By Berger Family Dental
September 13, 2013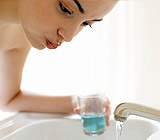 There are dozens of brands of mouthwashes and rinses on drugstore shelves that American consumers buy each year for clean breath and oral health. But the question is do they really work?
To properly answer that, you should first know that mouth rinses fall into two general categories: cosmetic and therapeutic. A cosmetic rinse can give you a temporary "clean" feeling in the mouth (usually masking bad breath with a more pleasant smell) but in the long run doesn't contribute to better oral health. On the other hand, therapeutic rinses do enhance oral health; they contain one or more ingredients that can help prevent the development of tooth decay and/or inhibit bacterial growth.
Although some therapeutic rinses are prescribed by dentists, many are available over-the-counter (OTC). Decay-fighting rinses usually contain sodium fluoride, which has been amply demonstrated to strengthen the surface of teeth and thus inhibit tooth decay and the likelihood of new cavity development — but only when used in combination with good hygiene practices. Anti-bacterial rinses contain ingredients such as triclosan, zinc or essential oils like menthol that reduce the level of bacteria in plaque (when also coupled with good oral hygiene). This also helps reduce the growth of decay.
For some patients a prescription rinse may be in order, especially during recuperation from oral surgery or where normal plaque control is difficult. The most common rinse contains chlorhexidine, a chemical that prevents bacteria from sticking to the teeth. The effectiveness of chlorhexidine, especially in helping to control gingivitis (inflammation of the gums) and preventing tooth decay, is well-documented after many years of research and use. While it may cause teeth staining in some patients, the staining can be alleviated by ultrasonic scaling or polishing.
So then, should you incorporate a mouth rinse into your daily hygiene regimen, and if so, what kind? That will depend on your own individual oral health needs, which we can advise you on. Knowing what your own needs are and the different kinds of mouth rinses and what they are designed to do, you can make an informed choice.
If you would like more information on the use of mouthwashes or rinses, please contact us or schedule an appointment for a consultation. You can also learn more about this topic by reading the Dear Doctor magazine article "Mouthrinses."