Posts for: July, 2013
By Berger Family Dental
July 30, 2013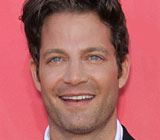 When it comes to dental health, you might say celebrity interior designer and television host Nate Berkus is lucky: Unlike many TV personalities, he didn't need cosmetic dental work to achieve — or maintain — his superstar smile. How did he manage that? Nate credits the preventive dental treatments he received as a youngster.
"I'm grateful for having been given fluoride treatments and sealants as a child. Healthy habits should start at a young age," he told an interviewer from Dear Doctor magazine. We couldn't have said it better — but let's take a moment and examine exactly what these treatments do.
Fluoride treatment — that is, the topical (surface) application of a concentrated fluoride gel to a child's teeth — is a procedure that's often recommended by pediatric dentists. Although tooth enamel is among the hardest substances in nature, fluoride has been shown to make it more resistant to tooth decay. And that means fewer cavities! Studies show that even if you brush regularly and live in an area with fluoridated water, your child could still benefit from the powerful protection of fluoride treatments given at the dental office.
Another potent defense against cavities is dental sealants. Despite your child's best efforts with the toothbrush, it's still possible for decay bacteria to remain in the "pits and fissures" of the teethâ??those areas of the molars, for example, which have tiny serrated ridges and valleys where it's easy for bacteria to grow. Dental sealants fill in and protect vulnerable areas from bacterial attack, greatly decreasing the risk that future dental treatment will be required.
Why not take a tip from our favorite celebrity interior designer, and ask about cavity-preventing treatments for your children's teeth? If you would like more information about fluoride treatments or dental sealants, please contact us for a consultation. You can learn more in the Dear Doctor magazine articles "Topical Fluoride" and "Sealants for Children."
By Berger Family Dental
July 15, 2013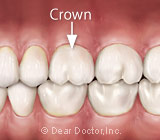 You've taken good care of your teeth all your life, with brushing, flossing and regular visits to the dentist. But chances are that someday (or maybe even now) you may be told that you need a restoration on one or more of your teeth. Oftentimes, that means a crown.
But what exactly is a crown, and why is it used? We're glad you asked!
In the course of time, natural teeth may need to be restored for a variety of reasons. As we age, our teeth may eventually become chipped or discolored. They can become weak and prone to cracking, or actually break due to tooth decay or trauma. Treating tooth decay may require a filling so large that there isn't much tooth surface left. Or, getting a dental implant (which replaces the roots of the tooth) means that you will need a replacement for the visible part of the tooth as well.
A crown (sometimes called a cap) is a common type of dental restoration. It's a way of replacing the tooth structure, in part or in full. A crown can cover the whole visible portion of the tooth, right down to the gum line. Since it's custom-made just for you, it is designed to fit in and function just like the rest of your teeth. And because it's composed of an extremely hard substance (gold, porcelain, ceramic, or some combination of these materials) it's made to last for a long time.
If a dental examination shows that you need a crown, here's how the process works: First, any decay is removed from the affected tooth, and it is prepared for restoration. Then, a 3-D replica of the tooth (and adjacent teeth) is made. This model is used to create a crown that matches your natural teeth. If you're getting a tooth-colored crown, the exact shade of the adjacent teeth will be duplicated as closely as possible.
After the crown has been fabricated, the tooth is made ready to receive the restoration. The crown is adjusted to mesh perfectly with the prepared tooth, and to function with the whole bite. Then, it is cemented or bonded into place. When it's all done, it can be hard to tell that you had any dental work done at all.
If you're thinking that it's a challenge to make an "artificial" tooth fit in with your natural teeth, you're right — but we do it all the time! Creating a superb-looking restoration is a blend of science and art. It takes a careful eye to match tooth colors and to adjust biting surfaces and spacing for a perfect fit. But when experienced dental professionals and patients work together, the results can make us both proud of the achievement.
If you would like more information about crowns, please contact us or schedule an appointment for a consultation. You can also learn more about this topic by reading the Dear Doctor magazine articles "Porcelain Crowns & Veneers" and "Gold or Porcelain Crowns."