Posts for: June, 2013
By Berger Family Dental
June 27, 2013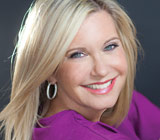 Though it's been a while since Olivia Newton-John sang her way into our hearts in the movie Grease, her smile is as radiant as ever. Today, Olivia is still singing, acting and busy with new ventures such as authoring a cookbook and raising money for the cancer center that bears her name in Melbourne, Australia. Whichever part of the world Olivia finds herself in, she protects that beautiful smile with an oral appliance that many find beneficial.
"I wear a nightguard to prevent wear on my teeth, custom-made by my dentist," Olivia recently told Dear Doctor magazine. "I love it!"
Olivia's device, also referred to as a bite (occlusal) guard, is designed for people who clench or grind their teeth at night, or during stressful periods. Made of thin, wear-resistant plastic, it is custom-made to fit exactly over your top teeth. This allows the bottom teeth to slide gently across the top teeth without biting into them. Not only does this prevent excessive tooth wear, it also helps relax the muscles of the jaw.
Grinding or "bruxing," as it's also called, can affect virtually any part of the oral system: the jaw joints or muscles, resulting in spasm and pain; the teeth themselves, resulting in wear, fractures or looseness; it can even cause an aching in the ears, head, neck or back.
If you are a teeth-grinder, you might not even know it unless a sleeping partner hears it or your dentist notices signs of wear. These habits are called "parafunctional" (para – outside, function – normal), meaning the biting forces it generates are well outside the normal range — sometimes as much as 10 times normal. So it's no wonder that damage to teeth can occur if they are not protected.
If you have any questions about grinding habits or nightguards, please contact us or schedule an appointment for a consultation. If you would like to read Dear Doctor's entire interview with Olivia Newton-John, please see "Olivia Newton-John." Dear Doctor also has more on "Stress & Tooth Habits."
By Berger Family Dental
June 14, 2013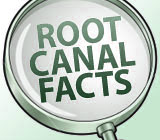 If the words "root canal" frighten you, what you probably don't know is that "root canal treatment" doesn't cause pain, it alleviates it — by treating infection deep in the root of your tooth.
What is a root canal? The central chamber of a tooth contains the living vital tissues comprising the pulp including its nerves and blood vessels. The interior of the tooth's roots containing the pulp make up its root canals.
How do I know if a tooth has a root canal infection? Symptoms of root canal infection may include sharp, intense pain when you bite down, a dull ache or pressure, or tenderness and swelling in gums near an infected tooth. There may be lingering pain after eating cold or hot foods. However, sometimes an infected tooth may stop hurting and you no longer feel pain. This doesn't mean the infection has gone, only that the nerve may have died. Make an appointment if you suspect that you have any or some of these symptoms.
Why would a tooth need root canal treatment? If the tissues in the root canal/s become infected or inflamed because of deep decay or trauma to a tooth, root canal treatment is needed to treat the infection and save the tooth. If left untreated, root canal infection can spread into the bone immediately around the root.
What takes place in a root canal procedure? After a local anesthetic is administered to numb the tooth and surrounding area, a small opening is made in the biting surface for a back tooth, or behind a front tooth. Dead and/or dying tissue is removed from the pulp chamber and the root canals are cleaned, disinfected, and sealed to prevent future infection.
What can I expect afterwards? Your tooth may feel tender or sensitive for a few days. You can take over-the-counter non-steroidal anti-inflammatory medication, aspirin or ibuprofen, for example, to relieve pain or discomfort. Contact us if you have pain that lasts more than a few days. A crown is usually needed to protect the tooth following root canal treatment. Further arrangements need to be made for this stage of the procedure. Don't chew on the affected tooth until symptoms subside and the tooth has been restored as necessary.
Who performs root canal treatment? While all general dentists have received training in endodontic treatment and can perform most endodontic procedures, in complicated situations you may be referred to an endodontist, a specialist in root canal diagnosis and treatment.
Contact us today to schedule an appointment to discuss your questions about root canal treatment. You can learn more by reading the Dear Doctor magazine article "Common Concerns About Root Canal Treatment."